Nicki Minaj stay repping Gaza and send DJ Lava daughter, who is a big fan, some love.
It has long been established that Trinidadian-born rapper Nicki Minaj is a huge fan of dancehall. Her handful of collaborations with acts such as Beenie Man, Mavado, and Vybz Kartel, as well as her regular use of Jamaican terms, including the countries vibrant expletives, all serve as evidence of her love for the fellow island state, its people, and their bold, unapologetic music.
The last two decades have witnessed the emergence of two of the genre's most prolific entertainers, Mavado and Vybz Kartel. Though they were both previously branded under the Bounty Killer-led Alliance, rising tensions led to Kartel pulling away from the group to form his own Gaza/Portmore Empire. Issues between the remaining members of the team and Vybz Kartel continued, with Mavado, who had previously branded himself as the leader of the Gullyside, taking the fight to Di Teacha.
The feverish rivalry between the two led to a square off at 2008's Sting, a battle for which a winner has yet to be decided. Their battle for supremacy continues to this day and has seemingly spawned greater divides among new groups and supporters.
The Gaza/Gully battlelines have been drawn in the sand for well over 15 years, and much like her Young Money counterpart Drake, Nicki Minaj has battled for both sides of the divide. In recent times, we have seen the queen strengthening her alliance with the Gazanation through high-profile collaborations and associations. Her recent chess moves seem to include her recent collab with known Gaza supporter Skillibeng, as well as a recent acknowledgment of avid Gaza supporter DJ Lava.
View this post on Instagram
On Friday, May 21, Nicki Minaj took to the comment section of a video on DJ Lava's Instagram page to reinforce her Gaza lineage. Lava shared a proud story of how his daughter and her friends brought it to his attention that Nicki Minaj followed him on Instagram.
"Me just take my likkle time an go pon my Instagram, type in Nicki Minaj, when mi look, Niki Minaj a follow me back to," he recalled.
"Nicki big up yuhself, Nicki Minaj big up. That was it so buzz nation we out. Gaza we buzzing," he said.
Surprisingly, Nicki Minaj dropped an unexpected reply to the DJ's commendations. "Famous ppl MUST follow famous ppl. Ya DUN KNOW. GAZA MI SAY. Kisses to ur daughter," she wrote.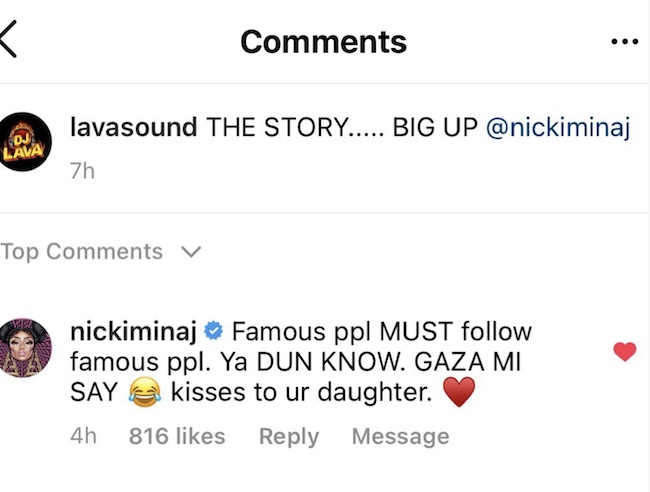 Much like Nicki Minaj's Barbz, the Gazanation is known for its unwavering loyalty to its leader. As such, it's no surprise that the thread below Nicki's comment was littered with numerous supportive statements. Yet, this was not the first time that Nicki offered praises to the GAZA and its frontman. In January of this year, Minaj publicly wished Vybz Kartel a happy birthday while referring to him as the "World Boss." Her alliance with the GAZA had taken root some years before when both worked on Major Lazer's 2017 hit single "Run Up." Nicki and Vybz would go on to collaborate on Stylo G and Fanatix's 2019 hit single "Touch Down."
Nicki Minaj got her dancehall appetite wet with a 2012 Beenie Man collaboration titled "Gunshot," however, it was her 2013 We The Best-produced track "Give It All To Me," which featured Mavado that seemingly cemented her love for dancehall. During this time, Mavado had also formed strong ties with Drake and was even featured in Canadian's "Find Your Love" music video. The deterioration of the relationship between Mavado and the 6God made way for an alliance with Drake and former GAZA protege' Popcaan. That relationship has flourished into Popcaan being signed to the Canadian superstar's OVO Sound Record label, as well as more love for Vybz Kartel. It's unclear if Nicki Minaj's family-like status with Drake has helped to strengthen her love for the GAZA. However, her admiration cannot be denied.
Share this: