One of the main defense witnesses in the Dante Brooks and Andre Hinds murder trial has broken her silence as she addressed the recent case that ended with the two young men being sentenced to prison- Brooks with 22 years to life and Hinds to 17 years before being eligible for parole.
Mavado has spoken out against the court proceedings and has claimed that his son did not receive a fair trial, his argument in support being the credibility of the main prosecution witness- the father of the victim Lorenzo Thomas who said he saw his son being murdered and he saw both Hinds and Brooks during the incident.
According to character witness – Charmanique Hinds, who identified herself as a family member of Andre Hinds' while she can't vouch for the whereabouts of Brooks on the night of the murder, she testified that Hinds was with her family the entire night and at the time of the murder.
"I just want to publicly say that I didn't want to address this issue …but I will. Andre and Dante were sentenced to life in prison for the murder of Lorenzo . (Mind you – Dre was with us the night of the murder) his fam. I cannot speak for Dante as I didn't knw where he was…Andre was in his room with his girlfriend from around 8pm up until 3 pm when the murder took place. We were all awken by what sounded like an explosion (Its a family house) and due to tension that was in the community at the time – We were all locked down."
I just want to publicly say that I didn't want to address this issue ? but I will. Andre and Dante were sentenced to life in prison for the murder of Lorenzo . (Mind you – Dre was with us the night of the murder) his fam. I cannot speak for Dante as I didn't knw where he was (1)
— IG: social_commentatorr (@darkkswan) March 21, 2021
In a series of tweets, Hinds, via her Twitter account @darkkswan, said Hinds was at home, and she had sight of him at all times.
"When we heard the explosion we all got up and congregated in the hall, Andre asked "What was that, me ago look" I said to him – no bada go look next thing u hear say u did outside! He went back inside with his girl (they were both in underwear and plain top)….My sisters and I went outside and saw a huge fire across from where we lived and other persons came outside their home, afterwards the police and fire fighters were altered. We all stood there and watched."
She rubbished the statements made by the father.
"Let's go to the victims father shall we? Days after the murder, this man went to the Constant Spring police station and said he did not see who murdered his son as the place was dark, days after he went back and said it was Andre and Dante (conflicting statements)"
She added that the statements were nevertheless admitted to court. "This man went to court with conflicting statements and it was admitted – mind you his first statement he told the judge that the police coerced him to say otherwise. Big Superintendent come a court told Judge "ntn nuh go suh" this man is a liar! Judge still a play hard ball. Next: He said he saw them coming from the direction in which we live and the street light was on, that's how he picked up it was them, (this street has not been working since John was a boy, since whappi kill Phillips, no light came on in that bulb) We tried to get evidence from JPS to counter what he said but to no avail."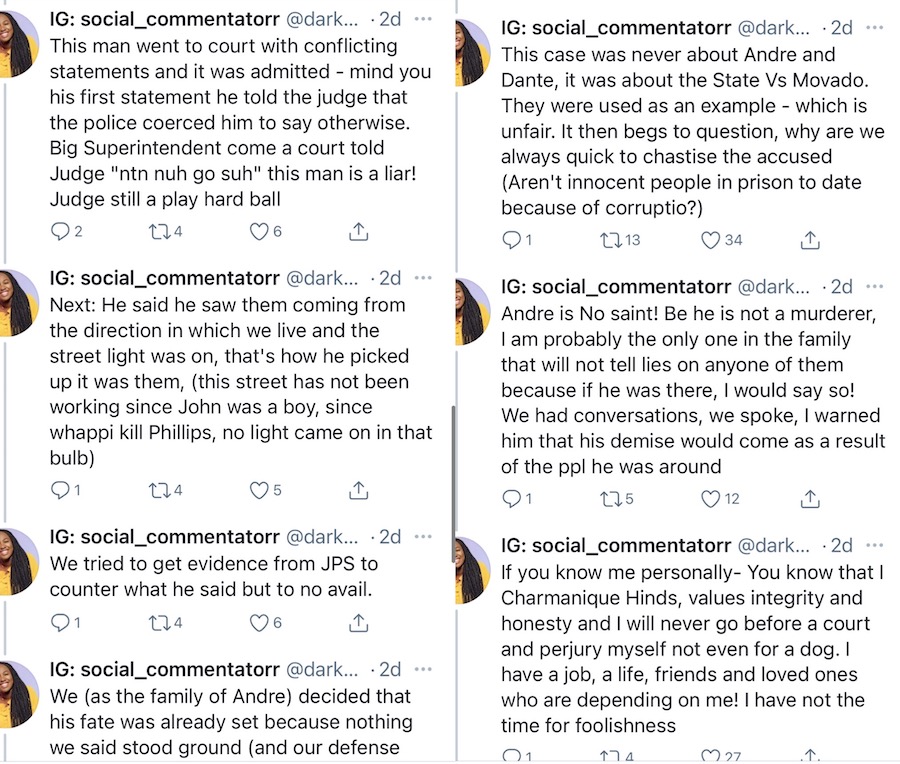 Hinds accused the state of using the case against his son in an effort to get to Mavado.
"This case was never about Andre and Dante, it was about the State Vs Movado. They were used as an example – which is unfair. It then begs to question, why are we always quick to chastise the accused (Aren't innocent people in prison to date because of corruption?)"
She added that while she believes that Hinds is innocent, she had forewarned him about the company he keeps.
"Andre is No saint! Be he is not a murderer, I am probably the only one in the family that will not tell lies on anyone of them because if he was there, I would say so! We had conversations, we spoke, I warned him that his demise would come as a result of the ppl he was around."
Meanwhile, the father of the victim, 55-year-old Lancelot Thomas, in an interview to the Jamaica Observer published on Tuesday (March 23, 2021), said on the day of the murder, he, for a couple of hours, observed both Brooks and Hinds and other people standing near his fence. In his interview, he said it was around 3:30 am when he heard his son's bedroom door was "kicked off," followed by gunshots, and he "saw his son falling to the ground while clutching his chest."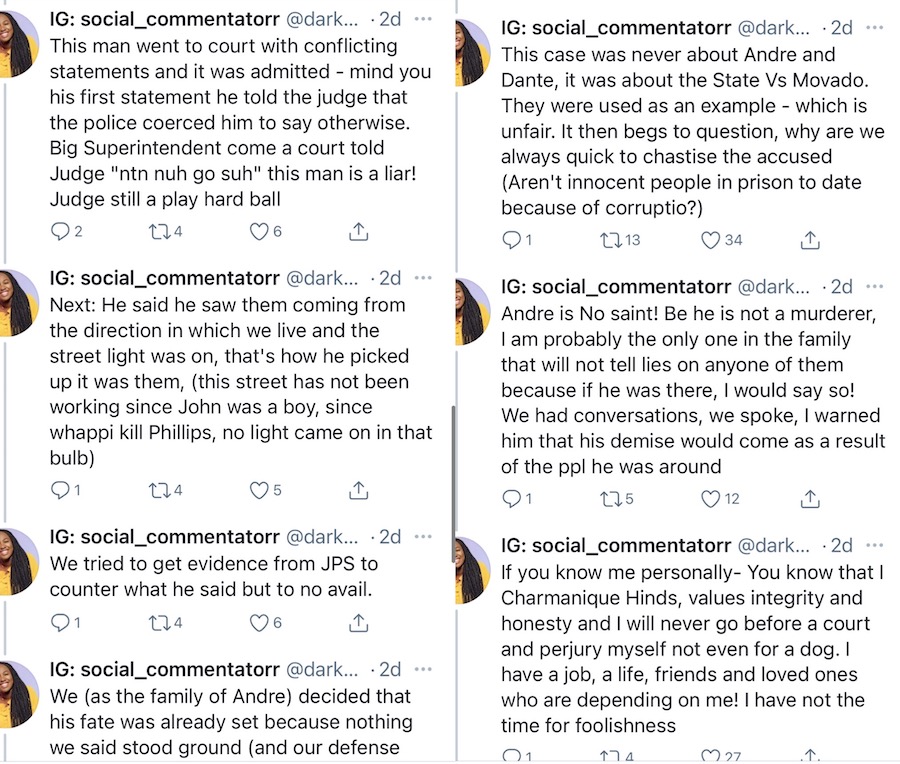 He said he saw Brooks, Hinds, and two other people in his son's room, and he heard conversation in which Hinds asked if the intruders should also kill the father to which another person who he said was Brooks say, "No, [him] nuh fi dead." He added that he saw "Brooks pass a cutlass to one of the persons in the room [this individual was not before the court], who tried to sever Lorenzo's head from his body."
After failing to do so, that unnamed and unidentified person "emptied a gun in Lorenzo's head. This same person then requested gas, poured some on the Lorenzo, then throughout the house, and then lit a fire. Brooks and Hinds, along with the two other persons, ran from the house," he said.
At the time of his death, the younger Thomas was awaiting the birth of his first child as his girlfriend was pregnant. His father painfully explained the close relationship he had with his son and the times they spent as father and son as he reflected on the effect of the death of the younger Thomas on his life going forward.
Both Hinds and Brooks have maintained their innocence, and their attorneys have stated that they have been instructed to appeal the case.
Dante Brooks, who was 16 at the time of the murder, was placed before the court as an adult. Brooks was also sentenced to 20 years for illegal possession of firearm and sentenced to 15 years for arson, with the sentences being concurrent.
Hinds, who was 23 at the time of the murder, was sentenced to 15 years at hard labor for illegal possession of firearm and 15 years at hard labor for arson, with the sentence being concurrent. Both men received time off for time already spent in custody from when they were incarcerated in 2018 to the date of trial in January 2021.
Share this: